BIS Registration Services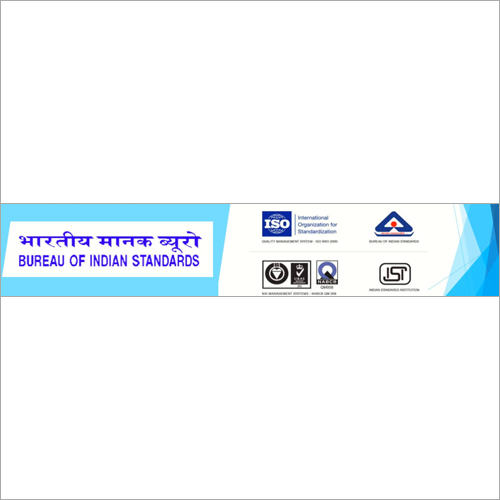 BIS Registration Services
Price And Quantity
Unit/Units

110000.00 - 130000.00 INR
Service Description
The Bis Registration Services have been offered by BIS, which is operating product certification scheme for foreign manufacturers (FMCS). In this scheme, a license is issued to the manufacturers who desire to have ISI product certification for their provided facilities. BIS registration certificate is granted to Manufacturing units and not to any individual. All importers and traders need to get BIS Registration for their respective manufacturing units before placing their order for scheduled electronic items. The BIS Compulsory Registration Services are very essential.
Ministry of New and Renewal Energy (MNRE) has not if products under Solar Photo voltaics, Systems, Devices and Components Goods(Requirements for Compulsory Registration) Order,2017 dated 05th September 2017.
As per the Order, no person shall manufacture or store for sale, import, sell or distribute goods which do not conform to the Indian and specified in the order. Manufacturers of the products are required to apply for registration from Bureau of India Standards (BIS) after getting the product tested from BIS recognized labs.
Bureau of Indian Standards then registers the manufacturers under its registration scheme who are permitted to declare that the articles conform to the Indian Standard(s).The registered manufacturers are then allowed to put the Standard Mark not if ied by the Bureau.
Compulsory Registration Scheme is operated under Scheme -II of BIS (Conformity Assessment) Regulations, 2018.
Following products are covered under compulsory registration scheme:
Amplifiers With Input Power
Automatic Data processing Machine
Electronic Clocks With Mains Power
Electronic Games(Video)
Electronic Musical Systems With Input Power 200 Wand Above
Laptop/Notebook/Tablet
Microwave ovens
Optical Disc players With Built In Amplifiers Of Input Power 200 Wand Above
Plasma/Lcd/Led Televisions Of Screen Size 32 And Above
Printers, Plotters
Scanners
Set Top Box
Telephone Answering Machines
Visual Display Units, Videos Monitors Of Screen Size 32"And Above
Wireless Key Boards
Cash Registers
Copying Machines/Duplicators
Passport Reader
Point Of Sale Terminals
Mail Processing Machines/Postage Machines/Franking Machines
Power Banks For Use In Portable Applications
Smart Card Reader mobile Phones
Self-Ballasted Led Lamps For General Lighting Services
Dcorac Supplied Electronic control Gear For Led Modules
Power Adaptors For Audio, Video & Similar Electronic Apparatus
Power Adaptors For It Equipments
Fixed General Purpose Led Luminaires
Ups/Invertors Of Rating<=5 Kva
30. Sealed Secondary Cells/Batteries Containing Alka Line Or Other Non Acid Electrolytes For Use In Portable Applications
Indian Language Support For Mobile phone Handsets
Recessed Led Luminaries
Led Luminaries For Road And Street Lighting
Led Flood Lights
Led Handlamps
Led Lighting Chains
Led Luminaries For Emergency Lighting
Ups/Invertors Of Rating <=10k Va
Plasma/Lcd/Led Television Of Screen Size Up-To 32
Visual Display Units,Video Monitors Of Screen Size Up-To 32
Cctv Cameras/Cctv Recorders
Adapters For House Hold And Similar Electricals Appliance
USB Driven Barcode Readers, Barcode Scanners, Iris Scanners, Optical Fingerprint Scanners
Smart Watches
Crystal Line Silicon Terrestrial Photovoltaic(Pv) Modules(Siwafer Based)
Thin-Film Terrestrial Photovoltaic(Pv) Modules(A-Si,Cigs And Cdte)
Power Invertors For Use In Photovoltaic Power System
Utility-Inter Connected Photovoltaic Invertors
Storage Battery
Product details
| | |
| --- | --- |
| Service | Pan India |
| Type of Certification | New Certification |
| Type Of Industry | IT and Consulting |
| Type Of Service Provider | Individual Consultant |
| Certification Provided With in | 2-3 Week |
| Mode Of Service | Online |
Contact Us
Prop. No. 50, 1st Floor, Desh Bandhu Apartment, Delhi, Delhi, 110091, India
Phone :+918035948178